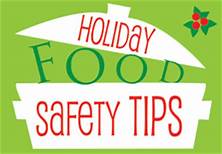 Make Food Safety a Holiday Tradition!
We gathered in this article some of the most important points to consider for handling food this holiday.
For producers
Foodborne illness cases declined globally with the COVID-19 pandemic.
A German study report mentions that there was a large reduction of around 80% in some gastrointestinal diseases compared to before the COVID-19 pandemic.
This reduction is mainly linked to an actual decline in infectious diseases and to multiple factors related to coronavirus measures taken worldwide such as reduced travel and increased hygiene measures.
This shed light more and more on the importance of adopting hygiene and safety measures, especially for food handlers and producers, at all levels and stages in their production of the food products, to avoid contamination and health diseases.
For retailers & distributors
On the other hand, and after the Covid-19 pandemic, home delivery raised and ordering food, either as meals or as finished products, has become a new trend globally.
But this trend also raised some contaminations cases.
Food producers are the main ones responsible for making sure the products they launch in the market fulfill are food safety & hygiene requirements, followed by retailers, distributors, and delivery agents.
At home this holiday, it's important for consumers to trust the top quality local brands when they order their food products, to keep their family and friends safe and in good health.
Here are some food safety tips at Christmas time
For Consumers
When shopping: buy from reliable suppliers, check quality marks on the packaging and label, and/or overall quality aspect of the product.
Storage: set Fridge between 1-5 C. Avoid overload & rotate stock on a first in-first out (FIFO) basis.
Defrosting: if you are defrosting a frozen turkey – place it in the fridge & allow 24hours. Golden Rule: do not leave perishable food at ambient temperature.
For cooking a Turkey: Start at high heat for the first 30 minutes, then lower to 170C for 3.5 hrs approx, then remove foil, raise temperature & cook uncovered for the last 30 minutes. Allow resting for 30 minutes before serving.
Using ready-prepared foods: Use cooking instructions on packaging as a guide.
Leftovers: do not leave leftovers at room temperature; instead refrigerate within 2 hours of service. Once refrigerated it should be eaten within 3 days.
Cleaning: Ensure the water is hot & clean. Use anti-bacterial wash-up liquid & rinse clean.
Summary of the 4 Cs:
COOK meat to 75 degrees, ensure it is steaming hot & juices run clear.
CLEAN hands before handling food, clean utensils, scrub chopping boards & have separate chopping boards for raw & cooked food.
COVER & separate Raw from cooked foods.
CHILL food to prevent spoilage & deterioration.
HAPPY HOLIDAYS!
Learn more on how FoodSight's services can help you stay safe within your food kitchen or factory.
Don't hesitate to contact us for more info at info@food-sight.com